Introduction
Outside the Literary Archives Market
The history of the market is the central, if submerged, element in the story of every great library and collection.
—William R. Reese
In the literary archives market, those who create the commodity—authors—have only one opportunity to make a deal. Their papers, which document their life and work, typically are sold together as a single collection. Consumers, researchers and the public prefer to work with and visit complete holdings. Researchers find the expense and time required to review multiple collections at geographically dispersed repositories too costly, while the public is less motivated to see a small set of materials. Likewise, repositories also prefer to purchase complete collections as institutions gain more prestige from major acquisitions. As a result, stakes are high.
Many writers decide to use executors, such as literary agents or manuscript dealers, to help them obtain the best price. After all, their families often depend on the financial support such sales provide. But the pressure is not just on authors and their representatives. Buyers also have only one chance to obtain their preferred collection. Library directors are keen to make newsworthy acquisitions that will enhance their institution's reputation. Subject curators know it is rare to gain the opportunity to add to their holdings significantly with a single purchase. And while archivists and digital archivists work for repositories to organize and provide access to collections once they are successfully obtained, they know that notable holdings can bolster their career, especially if incoming materials present cultural or technological challenges that will allow them to learn and advance professionally.
These stakeholders' concerns represent only their immediate motivations. Market participants are driven by history too. Authors may know others who sold their papers for top dollar to prestigious places and hope to equal, or best, their literary peers. Agents and dealers need to keep their businesses viable, which depends not only on continuing to represent the most important writers but also on maintaining positive and mutually beneficial relationships with repositories. Directors and curators must watch their budgets to ensure that they can make as many significant acquisitions as is financially possible. Their job is to identify their repository's preexisting strengths and build holdings over the course of their career that develop and expand those fields. Trained to imagine themselves as supporting the work of researchers and the interest of the public, archivists increasingly recognize that their interventions shape what documents are preserved and thus what narratives can be written. And researchers and the public come to collections and repositories with preconceived notions as to how these collections can be interpreted.
These stakeholders' current motivations and previous experiences generate a dynamic trade in literary papers. Within the United States, this market for collections of contemporary authors began in 1955 and continues today. While each collection is as unique as the writer who created it, the market's overall shape and direction can be tracked to show how it evolved from a trade that cheaply met the needs of a new, larger generation of researchers following World War II into the multimillion dollar market seen today. Placing Papers: The American Literary Archives Market documents this history by identifying the present and preceding needs of its stakeholders to argue that in the future the market will consolidate around the most privileged members of each group of stakeholders, a phenomenon widely known as the "Matthew Effect."
Although market histories, including this one, largely focus on successful trades, a market's power is shown by what it prevents from changing hands. Garbage may not seem to be a desirable commodity within a trade that mostly caters to academic and private research libraries. However, when that trash belonged to a two-time Pulitzer Prize winner, scholars would prefer to debate these materials' value rather than having repositories, even one as illustrious as Harvard's, foreclose their conversation.1 As the collections that institutions choose not to acquire are rarely documented and discussed, scholars believe their work shapes the direction of literary history rather than realizing that the individuals and institutions that comprise the literary archives market decide what will be written long before they enter the reading room.
John Updike's Literary Collection
In February 2016, John Updike's trash came to auction for $20,000. It failed to sell.2 But who put Updike's garbage up for sale? What was in it? Why was it supposed to be worth so much? And why did no one buy it?
This story begins in May 2006 when a man named Paul Moran was biking along a suburban road in Massachusetts. Moran saw Updike walk out of his house and place several bags on the curb. Among the contents were his honorary degrees. Moran paused as he realized the degrees were valuable. He immediately returned to Updike's house with his car and collected the garbage. Later, Moran recounted "with latex gloves and hand sanitizer, I retrieved the contents like a kid with a black plastic Christmas stocking. My hands were shaking from excitement and withdrawal. I was now in possession of John Updike's life in Kodachrome."3
At first, he sold his finds piecemeal at a local bookstore. Then he decided these items should not be used for immediate monetary gain. Instead, he decided to build a collection over time, to be sold later. He stopped by Updike's house frequently over the next several years, always picking up Updike's garbage. As a result, Moran gathered letters, photographs, clothing, and many other items related to Updike's life and literary career. He only ceased his errand when Updike died in January 2009. While Updike knew what Moran did, he never gave him explicit permission.4
Moran's eventual goal was to sell Updike's papers to the Harry Ransom Center at the University of Texas at Austin. To do this, he moved the collection from Massachusetts to a storage unit in Austin and created a website called the Other John Updike Archive (johnupdikearchive.com) to allow him to blog about his finds. Not content to promote his collection only on his own platform, he wrote an article, "Finding John Updike: And Taking His Trash" (2014) for the Texas Monthly to showcase the collection's value.5 But the Ransom Center declined to purchase the collection. When Moran put it up for auction through R&R Auction in 2016, the papers failed to meet their reserve of $20,000.
Although Updike is a major twentieth-century American writer, it would be reasonable to assume that Moran got too greedy when he went to sell Updike's belongings. After all, asking $20,000 for trash seems like a bit much. Maybe the Ransom Center's problem with the collection was its price. But Updike's official literary collection, also comprised of letters, photographs, drafts, and other "personal miscellany," sold to Harvard University's Houghton Library for $3 million.6 In comparison, Moran's collection was a steal.
The problem was many people thought Moran did steal. He was entitled to whatever he found on the curb legally owing to the Fourth Amendment, but Updike's family, literary agent, repository, the archivists employed at the repository, and biographer each agreed independently that what Moran did was unethical.7 Was that enough to keep anyone from buying it, even if the garbage did have research value? Apparently so, given that no one purchased the collection, even though its holdings were intellectually valuable and reasonably priced and its contents did mirror many of the types of materials available in Updike's authorized collection.
The literary archives market controls who has access to the primary documents that shape the composition of literary history. Scholars write literary history by consulting primary sources found in literary archives, but they rarely consider how these papers became accessible because what matters to them is their ability to use them to learn about a writer's life and creative process.
Updike's trash reveals that the market is as defined by what it keeps out as by what it permits. As papers are curated before they ever come into the hands of scholars, scholarship is not an objective representation of its sources. Rather, authorities' preferences determine which sources remain available to generate an understanding of the past. In the case of literary history, stakeholders within the literary archives market determine what sources future scholars may access according to the stakeholder's rational best interests.
Moran saved Updike's trash because he saw financial, scholarly, and public value in the items. He realized they were worth something; researchers and fans would want to see them; some might even be willing to pay. Plus, he could not walk away—he had what Walter Benjamin would call a collecting instinct.8 But what Moran did not count on was that the most important characteristic of a collection is the identity of its owner, not its research value. Moran failed to sell his collection not because it was worthless but because he was not Updike or Updike's authorized heir or agent. Moran's failure proved how the literary archives market adjudicates who can own, sell, manage, and interpret writers' papers.
What Moran lacked was cultural capital, a form of knowledge transferred through socioeconomic privilege that equips a person to appreciate and decipher cultural relations and artifacts. Often those who possess a high cultural capital are said to understand the unspoken code governing social relations. Pierre Bourdieu described this code as not just a "belief concerning what constitutes a cultural (e.g., literary, artistic) work and its aesthetic and social value" but also a perception of which networks of people and organizations have the right to adjudicate value.9 Moran did not realize initially that because he did not possess the correct cultural capital, his collection would fail to incite interest.
Moran's collection also challenged the monetary value of the original Updike collection. Author's papers are purported to be the final, authorized, but still enticingly backstage pass to a writer's life and work. To the institutions that purchase literary archives, this access is worth thousands or millions of dollars. But Moran offered an even more illicit carrot: the ability to see Updike as he did not wish to be seen, a tease to tempt even the most ethical researcher. If Moran's collection was bought by any university other than Harvard, where Updike sent his papers for decades, the institution that collected Updike's first set of papers would have its claim to exclusivity undercut.10 Once Moran's holdings went unsold, Harvard remained secure that its collection is the primary set of papers related to Updike available to scholars.
When Adam Begley, Updike's official biographer, described the collection of Updike's trash as "completely worthless," he unwittingly designated that this collection was supposed to be worthless, for it fell outside the parameters of what he intended to provide.11 After all, Begley's writing needed to be based on the authorized papers; his definitive account is less definitive when new sources become available. Begley acted in his rational best interest to validate only the sources he used. Similarly, when Leslie A. Morris, Updike's curator from Houghton Library, and Andrew Wylie, Updike's literary agent, condemned the collection, they asserted their best interests: their financial as well as intellectual monopoly on the author.12 Morris defended her decision to decline Moran's papers by arguing "an archival collection derives meaning in part from what a person chooses to cull from it."13 In effect, she reiterated that the only collection that was supposed to exist was the official one, properly prepared by Updike, managed by Wylie, bought by Harvard, curated by Morris, and researched by Begley. Moran's goal to sell Updike's trash challenged the existing institutional structure of the literary archives market. These stakeholders' combined authority prevented the Moran collection from achieving its reserve price.14
Furthermore, Moran's collection challenged the identity of these individuals and institutions. Professions are defined by their work as well as how access to that work operates. These features can be divided into four distinct requirements: knowledge, monopoly, autonomy, and service. Knowledge is obtained by completing specialized education. Monopolies are enforced by ensuring that such knowledge remains limited to those who can access this education. Autonomy requires controlling how this knowledge can be applied once it is obtained through an officially sanctioned program, and service justifies the entire system by appealing to a greater ideal, such as the public good. Professions follow these practices to guard their value, also known as "occupational privilege."15 As literary agents, library administrators, curators, and scholars are all professionals, these individuals were primed to react protectively against the threat of an outsider engaging in their work. Disparaging the research value and provenance of Moran's collection is a rhetorical action intended to reify the speaker's own occupational privilege, the source of their cultural capital. Unfortunately for Moran, their ability to enforce their professional autonomy—their right to determine who can identify, sell, and purchase literary archives—held stable in the face of his test.
Once Moran realized he lacked cultural capital as a collector entering the literary archives market, he attempted to change his identity from collector to artist. He rechristened Updike's trash as postmodern assemblage and began a publicity campaign through his blog. Eleven links formed the blog's header, taking readers to longer explanations of Moran's approach, while the blog entries featured portions of the collection.16 By doing so, Moran bracketed the collection within his chosen critical context. Seen in figure 1, three of these links are particularly insightful: "Culture Vulture," "Proust's Overcoat," and "Talking Heads '77."
Clicking "Culture Vulture" originally took readers to a New York Times article about an upcoming Swann Auction in New York. The auction followed a trend spearheaded by Christie's South Kensington to combine traditional auction items with more unusual offerings like preserved wedding cakes and used paint brushes to "give the sale a story."17 Moran used this piece to suggest that prized materials like Updike's original literary collection can benefit from association with less collectible items, like his trash.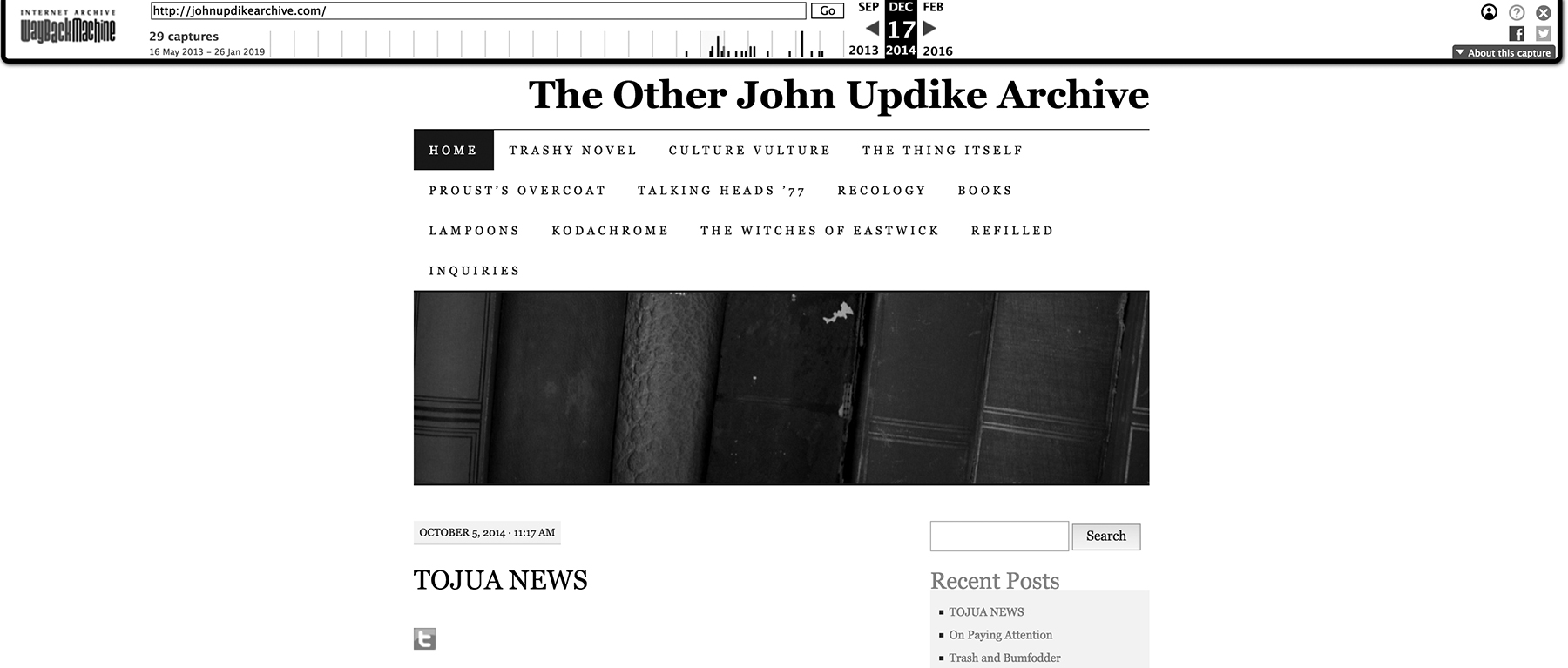 Choosing "Proust's Overcoat" allowed viewers to see a page that combined images of the collection with quotes from Lorenza Foschini's Proust's Overcoat: The True Story of One Man's Passion for All Things Proust (2010). Foschini documented Jacque Guérin's obsessive hunt for Marcel Proust's belongings.18 By affiliating himself with Guérin, Moran highlighted how the ends justify the means when it comes to preserving literary papers.
Opting for "Talking Heads '77" provided visitors an opportunity to read a piece written by Moran himself arguing that Updike's trash was a postmodern assemblage. Moran found his tradition in the work of Joseph Beuys's Felt Suit (1970), René Magritte's La Trahison des images (1928–29), Joseph Cornell's Manual of Marvels (circa 1930), and Marcel Duchamp's Fountain (1917).19 Beuys emphasized that art is a representation of the everyday; Magritte highlighted that images are simulations of the real artifacts; Cornell thought scavenged materials could be as evocative as traditional media; and Duchamp suggested art is determined by the context into which an item is placed.
As Moran repurposed common found objects into art by presenting these materials online, Moran felt that he continued the work of Dadaists and Surrealists. Moran saw how his finds were not legible to the literary archives market, but he thought these materials could be appreciated if he presented the items within an accepted critical framework. If Moran could have his collection accepted as his own art, comprised of belongings previously owned by Updike, rather than as Updike's literary collection, he thought he would have a better shot at selling the materials. In effect, he tried to rebrand himself to make his holdings more attractive. But Moran's recontextualization failed. What he described as an assemblage, others perceived as ephemera. What he said was art, others saw as garbage.
This example demonstrates that rather than reacting to the demands of researchers, the literary collection market's stakeholders shape their appetites. What is left by history gains value from what is discarded. But Morris admitted that what gets thrown away can later prove fascinating—and one prominent scholar agreed. Matthew G. Kirschenbaum included an image of one of the computer diskettes supposedly lost by Updike but found by a "private collector" in Track Changes (2016). He even discussed the Moran case in his chapter "What Remains," in which he stated, "It is fair to say that key members of the Updike establishment have taken a dim view of Moran's activities." Revealingly, Kirschenbaum then argued that these diskettes raise questions central to Updike scholarship.20
Yet even Kirschenbaum's support would not have helped Moran. After all, Pierre Bourdieu predicted that literature, like art, cannot exist outside the network that legitimates its value. As repositories are in the business of propagating cultural capital, those representing these institutions are unlikely to cede their authoritative role.21 No matter how elevated Moran made his discourse, it was in the market's best interest to keep Moran out. Cultural authority becomes more important to maintain than research value.
Stakeholders in the literary archives market demonstrated their values through their treatment of Moran's collection. The presence of Moran's collection challenged the executors, institutions, and archivists who engaged in the sale, acquisition, and organization of Updike's papers. Researchers should remember that when these stakeholders decided to oppose an acquisition, they determined the direction of future scholarship.22 The literary archives market does not support scholars, it feeds them. The distinction seems minute, but the difference is critical. Scholars are dependent on the market, not the market on scholars.
The literary archives market commodifies the personal papers of writers like John Updike.23 After all, not all authors' papers have the potential to become commodities destined to live within a "conventional archive."24 Think of a publisher's slush pile of rejected poems or a failed novelist's notebooks. While poem drafts and journals are types of items found in a literary collection, they do not have financial value unless they come from a successful author.25 But once a writer becomes successful, institutions want to acquire his or her papers to satisfy scholarly interest and public curiosity. As a result, the author and her family, often with the help of a literary agent or manuscript dealer, donates or sells her papers to an institution. That institution can be represented during the acquisitions process by either a library director or a curator who advocates for the significance of the author and her work. Once a director or curator convinces the writer to place her material in their repository, staff archivists arrange and describe these papers before they become accessible.26 The literary archives market transforms an author's personal papers into a commodity.
Updike's trash had to move through the authorized channels of the market's stakeholders to become a legible commodity. As Moran was not Updike's authorized heir or representative, Moran could not participate in the market even when he had a set of papers with research value. But the rules that worked to exclude Moran took time to develop. This book examines how the motivations of the literary archives market's American stakeholders generated the history and behavioral norms of the trade.
Quantitative data describe the stakeholder's historical behavior by illustrating correlations rather than proving causation owing to changing sample sizes for each variable and the relatively small size of the overall data set. All quantitative data in this book are based on the 102 writers listed in the seventh edition of The Norton Anthology of American Literature (NAAL). Since then, ten years have elapsed and two more editions have been published, offering scholars of the future literary archives market an opportunity to see how definitions of the canon shift over time.27 While writers who appear in multiple editions of NAAL could be said to be more canonical than those who are included only once, for example, such analysis and its implications on how the literary archives market is depicted will be left to a future researcher.28 Furthermore, data collection concluded in January 2016, indicating that information includes only authors who placed their collections prior to December 2015.
The names found in the anthology became constants, while the information sought in finding aids formed variables. ArchiveGrid, Google, and university library catalogs located these guides. As authors often have several institutions collecting their papers, the data set included only the largest collections.29 Size served as a proxy for the likelihood that the collection represented an author's primary deposit of papers rather than a synthetic collection;30 for this reason, only collections larger than 0.5 linear feet were included. When an author had multiple collections, the larger set of papers was selected.31
Once a NAAL writer's primary collection was identified, I populated the study's data set with information found in the collection's finding aid. In the case that the finding aid did not provide the necessary information, the repository was contacted via email. Footnotes record and explain any inconsistencies or omissions in the resulting data set. Furthermore, the data set employs both interval and nominal data. Interval data signals a value difference, whereas nominal data involves numbers that do not have a set order. Nominal data in this study is coded as either a 0 or a 1. For example, an author is either alive (0) or dead (1) when institutions acquire their literary collection. One cannot be simultaneously alive and dead, and while being alive might seem superior to being deceased, neither state is quantitatively set as better than the other.32
Case studies of individual acquisitions from the stakeholders portrayed in each chapter complement the quantitative data. Whenever possible, this book uses the stakeholders' own published words. Generally, these stakeholders commented on their activities in nonscholarly locations such as popular newspapers and magazines, trade publications, finding aids, professional white papers, publicity statements, commercial websites, and personal blogs. The paratextual and often ephemeral location of these texts highlights how the literary archives market came to be overlooked in scholarship discussing twentieth- and twenty-first-century American literature.
Understanding how the market commodified creativity requires appreciating why authors create brands, executors turn a profit, institutions want to reduce competition, archivists influence research outcomes, and scholars and the public seek access. Synthesizing these perspectives demonstrates how these stakeholders together shaped not only the trade in writers' papers but also the direction and the future of academic inquiry in the humanities.
To begin, let's follow the money.33
---