In August 1645, leading Salem, Massachusetts, resident and attorney Emmanuel Downing wrote to his brother-in-law and former Massachusetts governor John Winthrop about a war with the Narragansett Indians of modern Rhode Island. Concerned about the spiritual wellbeing of the young colony, Downing believed the conflict to be good and just. Waging war on those who "maynteyne the wo[rshi]p of the devill" like the Narragansett would allow God to "deliver" Indian captives "into our hands." These prisoners in turn could be exchanged for African slaves, which would be more useful than "wee conceive."
Downing was shockingly blunt and honest in his letter. He proposed capturing Indians, enslaving them, and trading them for African captives. Having been resident in the colony for a number of years, Downing surveyed the young settlements and realized that Massachusetts suffered from a severe labor shortage. The colony required a "stock of slaves suffitient to doe all our business" because white settlers "desired freedome to plant for them selves" or would demand "verie great wages" to work for somebody else. Land was plentiful and workers scarce in early Massachusetts, and Downing understood this problem. To keep established farms and workshops in operation, Massachusetts needed laborers. And who better than African slaves? As the attorney conceded and Winthrop knew "verie well," the colony could "maynteyne 20 [slaves] cheaper then one English servant."1
Downing's letter is important to understanding the origins and nature of slavery in colonial New England. Colonial expansion depended on two interrelated factors: displacement of the indigenous population and labor. Using connections to a larger Atlantic world, white New Englanders could address both problems with one solution, in this case an Indian war. By capturing Indians in "just wars" (wars against non-Christians), colonists could obtain a valuable trade commodity to exchange for African slaves. These Africans would be acquired through the region's extensive trade with the Caribbean, the center of New World slavery. Even better for colonists, as Downing was sure to remind Winthrop, Africans were allegedly hearty and required little for survival, making them a much cheaper labor source than white settlers.
Articulating the racial theories of his time, Downing used his beliefs about African inferiority to make a fiscally sound argument. New England had cultivated connections with a source for slaves, while wars both displaced Indians, opening more land for settlement, and transformed humans into a good to be bought and sold. In short, as Downing's letter demonstrates, slavery was on the table from the earliest years of settlement.
The New England colonies, home to around 1,700 slaves in the late seventeenth century, was not that different from other English settlements in North America. The region contained a small number of African slaves who supplemented the largely white workforce and settler population. Enslaved men and women arrived from all over the Atlantic world, attempted to build lives to the best of their ability, and found themselves exploited at the hands of a vicious, humiliating, and dehumanizing colonial regime.
Slaves and Englishmen
For the Englishmen and -women who settled New England, slavery was something both foreign and familiar. While they would not have encountered many enslaved Africans in England before sojourning across the Atlantic, they would have been aware of various forms of captivity and bondage from around the globe. As such, the first generations of New Englanders had a relatively ambivalent relationship with slavery. On the one hand, slavery was always on the table and a tool of colonization. There was, however, a deep-seated fear about the presence of so many enslaved "strangers" present in their colonial experiment in the North American wilderness. Such attitudes created a legal, albeit ill-defined form of slavery.
By the 1500s, slavery had largely disappeared in England itself. The ancient Celts and subsequent invaders alike, including the Romans, Anglo-Saxons, and Vikings, practiced slavery. Following the Norman Conquest of 1066, however, slavery in England withered away over the High and Late Middle Ages. Perhaps foreshadowing colonists' own predicament in the New World, centuries of plague and famine created labor shortages. Especially following the Black Death (1348–49), which killed roughly one-third of England's population, both artisans and agricultural workers took advantage of the dearth of workers to demand higher wages, rights, and workplace privileges. In the process, many English peasants acquired their own property, becoming free, land-owning farmers called "yeomen." Likewise, craftsmen laid claim to the right to control and bargain with their own labor and skillsets, a legal concept known as "property in labor." Both yeomen and artisans were protective of their rights, independence, and property, promoting a culture and ideology of free labor.
Nevertheless, despite a culture emphasizing the rights of free workers, multiple forms of bound labor existed in England. Although most agricultural workers were free, serfdom still existed in parts of the kingdom. Likewise, young men and women would enter into various states of dependence to learn how to farm, keep house, or a skilled trade. Called "servants in husbandry" for boys and girls in rural areas and "apprentices" for young tradesmen learning a craft, this form of bondage was common and part of a young person's transition to adulthood. Being bound out to a neighbor or local master artisan offered England's youth the opportunity to learn how to be productive and independent laborers.
While this description implies benevolence and a happy dependence between master and servant, coercion and violence were integral parts of this relationship. A key part concerned disciplining young people to move them toward becoming good, contributing community members. Indeed, by the early 1500s, the nature of servitude began to change. Landowners, both noble and common, began experimenting with their land, turning it over to the production of cash crops, livestock, and marketable foodstuffs. This transition displaced large numbers of free peasants, who became vagrants looking for work. To address this social and economic crisis, during Queen Elizabeth I's reign, English officials, both local and national, promoted a number of relief programs. Many of these programs indented—transformed into servants—poor people, especially the young, to wealthier landowners and tradesmen. The idea behind these programs was not teaching useful skills but rather using legally dependent relationships to maintain order and the status quo. And much like traditional servitude, violence structured these relations. Likewise, to regulate both forms of servitude, English jurists created laws that governed masters and servants.
The Bible, especially important to the radical Protestants who settled New England, also provided an important perspective on slavery. Depending on how one read the Bible, it could provide a powerful critique of slavery, such as the book of Exodus, or condone bondage, such as the various laws governing slavery in Leviticus. Even the New Testament implicitly approved of slavery, instructing "all who are under the yoke of slavery [to] regard their masters as worthy of all honor" (1 Timothy 6:1–2). Especially important to how early modern English readers considered the Bible's message on slavery was how they regarded themselves. For them, they would have been allowed to enslave non-Christians and foreigners or, in their parlance, "strangers." In that sense, the message of liberation contained in Exodus was meant only for God's chosen people.
Ambivalent language aside, many Europeans did look to the Bible for guidance on slavery. When they first encountered sub-Saharan Africans, many used the Bible to better understand the black people they were encountering. They found solace in the story of Noah and his son Ham, who, according to scripture, had looked on his father's naked body after a night of drunken revelry. Upon learning of his son's transgression, the patriarch punished his son, permanently marking him and forcing him and his progeny to serve his brothers. Known as the curse of Ham, Europeans associated African blackness with this biblical story, which provided an important precedent for enslaving Africans.
More concretely, an early account of slave ownership from New England demonstrates how the Bible could be used to justify and govern slavery. Theophilus Eaton, one of the founders of the New Haven Colony (later part of Connecticut) and its first governor, owned at least three slaves, Anthony, John Whan, and Whan's wife, Lucretia. After Eaton's death in 1658, his daughter Hannah Jones became involved in a dispute over the status of Whan and Lucretia. Were they indentured servants, whose service ended after a period of time, or were they bound for life? According to Jones's testimony, the slaves were "servants forever or during his pleasure, according to Leviticus 25:45 and 46." By drawing on biblical law to understand the legal status of John and Lucretia Whan, Jones's action demonstrates how early modern Englishmen and -women used scripture to navigate slavery.2
As the various forms of servitude and the Bible suggest, most early modern Englishmen and -women would have been acquainted with slavery. As England underwent its own economic and social transformations during the sixteenth century, large numbers of English people also began to travel the globe. Everywhere they turned, whether in Africa, Asia, or the Americas, they encountered slavery. Travelers and explorers published their findings and encounters with the world. These books and pamphlets found wide readership, as the English Reformation and its emphasis on reading the Bible had created a literate public. As readers navigated the world in print, they prided themselves on being a nation of freemen. They were exceptional: free people in a world of slavery.
As England embraced liberty at home, it could not escape the world of slavery. While travel narratives described the barbarities of bondage, they also demonstrated how, especially for Spain's and Portugal's American colonies, slavery could be useful. Enslaved people, indigenous and African, provided the heavy labor required to extract the silver and sugar that enriched the Iberian Peninsula. At the same moment that English privateers were attacking Spanish shipping and intellectuals were making arguments that New World colonies could aid in the fight against Spain, Englishmen looked to the Spanish to see the utility of slavery in these endeavors. Whether illegally trafficking enslaved Africans to sell to Iberian settlements or purchasing slaves for their own uses, Englishmen, as one historian argues, saw "the utility of slavery at precisely those times when order was deemed necessary."3 Slavery, then, held the key to making the New World profitable.
Just as Englishmen encountered enslaved Africans in the Americas, they also explored sub-Saharan Africa and came into contact with its inhabitants. While accounts were not in agreement, many English writers ascribed negative characteristics to the African peoples they encountered. Africans were different. They wore different clothing, ate different food, lived in different houses. Combined with the fact that most Africans were not Christians, these contrasts caused the English to interpret them as inferior and savage. While these attitudes were not the scientific racism of the late eighteenth and early nineteenth centuries, these perceptions of human difference helped drive England's adoption of slavery.
Slaves and New Englishmen
By the time English colonists arrived in New England, they believed slavery and colonization went hand in hand. Indeed, even before the English began colonizing the region, famed English explorer John Smith saw the potential for slavery in New England. Deliberately emulating the Spanish, Smith argued that with enough military force, any colonists to the region could subdue the Indians, use them for labor, and supplement those forced laborers with Africans.4 Given that Smith laid the intellectual foundation for colonizing New England, it should be no surprise that less than two decades after the settlement of Plymouth Colony in 1620, and one decade after the settlement of Massachusetts Bay in 1628, slaves were present in the area. New Englanders were ready and willing adopters of slavery, using enslaved Africans on farms and in workshops across the region and passing laws that governed the institution.
Any assessment of slavery in New England must begin with an understanding of why English colonists settled in the region. Older narratives correctly demonstrate the religious origins of New England. In many ways, the origins of colonization lay in the English Reformation, when England broke away from the Catholic Church. After the split, King Henry VIII created a state church, the Church of England (or Anglican Church), with the monarch as the head. Outside of replacing the pope with the king and allowing priests to marry, however, the structure and nature of the Anglican Church did not radically differ from the Catholic Church. Many Englishmen, both clergy and laity, accordingly believed this English Reformation did not go far enough. Inspired by the teachings of theologian John Calvin, these reformers wanted to return the English church to its apostolic origins, or, in other words, purify the church of its Catholic, hierarchical, and oppressive structures. Appropriately and derisively called Puritans, this religious movement gained traction over the next three generations and was especially popular with the emerging English middle class of merchants and artisans.
Although Puritans always had an uneasy relationship with the monarchy, the death of Elizabeth I in 1603 gave them pause. The ascension of James I, believed to have Catholic sympathies and certainly no friend of the Puritans' anti-hierarchical message, caused many to rethink their place in English society and the wider world. By the early seventeenth century, the Puritans had broken into two distinct sects: Separatists, who wanted to break away from the Church of England, and a more mainstream group who merely wanted to reform the church. James cracked down hardest on the former, forcing them into exile to the Netherlands. This group, seeking to distance themselves from the oppressive monarchy, eventually found passage on the Mayflower to settle Plymouth Colony in 1620.
Other Puritan groups likewise began discussing settlement in the New World, especially after the coronation of Charles I, the son of James. Puritans feared Charles, who was a believer in the divine right of kings and married to a Catholic princess. As Charles began to disregard the will of Parliament and levy taxes without consent shortly after taking the throne, he confirmed many of the Puritans' worst fears. His reign helped push colonization to the forefront of the Puritan religious mission. Between 1628 and 1640, nearly thirty thousand English Puritans, many of them as family groups, traveled to New England to help build a Puritan society in the forests of North America. These settlers quickly spread across the region, settling in Massachusetts, Plymouth Colony, Rhode Island, Connecticut, New Hampshire, and Maine (part of Massachusetts) by 1640.
For many of the Puritans, their mission in the New World was an "errand in the wilderness." They sought to create a Godly society in North America combining hard work and piety to build a civilization worthy of emulation across the Christian world. For the settlers, maintaining this "city on a hill" could not have been more important. Thus, order was paramount. Colonists settled in towns organized around established churches, hired ministers, and farming. Men who were full church members governed towns and managed labor to build roads and fences and clear land for agriculture. While relatively open and equitable for members of the Puritan community, New England society was intolerant of outsiders and enforced a strict disciplinary regimen for everybody living in the region.
From this perspective, slavery seems antithetical to the Puritan mission. After all, African and Indian slaves were non-Christians, strangers, and thus no friend to the religious mission in New England. Likewise, popular attitudes held that controlling the labor of others created idleness, sloth, and lethargy. Such sinful corruption of both the body politic and individual spiritual beings, in theory, could not be tolerated.
Nevertheless, Puritan settlers of New England espoused an economic vision that was part and parcel of their larger religious mission. Economics paved the way for slavery. Both Plymouth and Massachusetts received charters not as settlement colonies but as trading companies meant to make a profit exploiting New World resources. Moreover, New England's settlers knew their enterprise had to be solvent. Colonists needed money to build towns and churches, pay ministers and governmental officials, and purchase the equipment necessary for clearing land, building farms, and rearing livestock.
While the majority of settlers in New England were Puritans or Separatists, other Protestants also colonized the region, and denominational diversity influenced economic development and slavery. Anglicans with deep connections to the English crown initially settled what became Maine and New Hampshire. While Massachusetts eventually gained control of Maine, New Hampshire remained a center of Anglican and royal interest. Imperial officials and English travelers, who were largely Anglican, also circulated through the region. Meanwhile, the radical Puritan Roger Williams had a falling out with the more conservative leaders of the Massachusetts Bay Company, leading him to move from Massachusetts and create the colony of Rhode Island and Providence Plantations. Williams advocated for the separation of church and state, and the colony was officially tolerant of all Protestant faiths, becoming a haven for persecuted Baptists and Anabaptists. Finally, many Quakers, a radical English Anabaptist sect, settled in the region, especially Rhode Island, and were often the victims of repression and persecution in Massachusetts.
Religious diversity influenced New England slavery in different ways. Anglicans such as Samuel Maverick and John Josselyn, two men discussed later, often accepted slavery as a natural part of colonization. At the same time, in Rhode Island, the decision to weaken the colonial government to ensure religious freedom created a situation where the colony exercised little power over its colonists. Those settlers took advantage of lax control and pursued their own agendas. It should be no surprise that the colony became a haven for smuggling and piracy, but the colony also invested heavily in slavery. Although all the New England colonies did so, almost the entirety of Rhode Island's economy came to revolve around slavery and the slave trade. Finally, Quakers had an ambivalent relationship to slavery. Many became slave owners and participated in the business of slavery, but over the course of the seventeenth and eighteenth centuries, Quakers gradually turned against slavery and became some of the leading voices against the institution. Indeed, Quakers were some of the first enslavers to manumit their bondsmen and -women and were often advocates for emancipation and banning the slave trade.
Even as religion influenced attitudes toward slavery during the initial decades of settlement, economic development was a concern for all the colonists, regardless of faith. For the Puritan majority, the colonies were meant to be a beacon to the world and send a signal that it was possible to build a functional, Godly commonwealth. One of the best ways to spread the gospel of New England was through trade and commerce, demonstrating how these colonies, through hard work and God's divine grace, could become prosperous. After suffering initial setbacks during the 1630s and early 1640s, eminent Puritans such as Emmanuel Downing and John Winthrop dedicated themselves to transforming New England's economy. Focusing on trade and industry, colonists invested in land to grow food crops for export, built ironworks and brick kilns, and constructed shipbuilding facilities.
New England colonists of all faiths faced a serious economic conundrum, however. The soil was too stony and climate too cold for lucrative cash crops such as sugar, coffee, and tobacco. While food crops—with the glaring exception of wheat—grew well in the region, subsistence agriculture was not enough to sustain the Puritans' economic vision or maintain an equal balance of trade with business partners. Instead, the Puritans exploited the two natural resources the region did have—timber and fish—to create commodities for trade. Most importantly, they transformed wood into ships to catch fish and haul goods, many manufactured in Britain, across the Atlantic. Called the carrying trade, this commerce greatly enriched New Englanders, especially its burgeoning merchant class, and created connections across the Atlantic world.
But an economy built on the extraction of fish, timber, and food crops, light manufacturing, and shipping required labor. As Downing's letter suggests, as early as the 1640s, New Englanders faced severe labor shortages. Three factors contributed to this issue. First, although nearly thirty thousand Puritans traveled to New England, roughly half returned to the mother country, especially during the tumultuous English Civil War (1641–49). Second, given the abundance of land, many of the young male colonists who remained did not want to work for others. Rather, they preferred to purchase land in existing towns or move to the frontier and build their own towns with fresh farmland. Land hunger was a double-edged sword. On the one hand, it meant that New England colonies constantly expanded, fulfilling their Godly mission and fueling agriculture and trade. On the other, it deprived more settled areas of working-age men and women. Finally, the New England colonies held poor prospects for riches compared to other nascent English colonies like Virginia and Barbados. All of these circumstances deprived New England of able-bodied, European colonists and drove wages up for those who did live there.
To address this severe labor shortage, New Englanders turned to a number of strategies. Once again fulfilling their Godly mission, colonists had many children who could be put to work in the fields, ships, timber mills, and households. Over the next few decades, this became the primary strategy for supplying labor. Even as New England's population expanded from twenty thousand white settlers in 1650 to ninety thousand in 1690, natural increase could not satiate the region's demand for labor. For that reason, they turned to New England's indigenous population and Africans from across the Atlantic Ocean.
As John Smith's observations show, from the beginning of settlement, colonists saw Native New Englanders as a potential source of labor. They could be converted to Christianity and put to work on farms across the region. If Indians refused to comply, they faced eradication. Constant English demographic and geographic expansion required the complicity and/or displacement of the region's Indians. Time and again, Indians went to war to defend their land and rights, and settlers captured and enslaved hostile groups. New Englanders trafficked in Indian war captives to work on their farms and in their workshops. Even after prohibiting the outright enslavement of Indians in the late seventeenth century, colonists invented cruel and creative methods of capturing Indian labor such as debt peonage and criminal servitude.
Indian slavery also paved the way for African slavery. Embedded in Downing's letter to Winthrop is the assertion that Narragansett captives could be exchanged for enslaved blacks. Downing wrote in the immediate aftermath of the Pequot War (1636–38). During this conflict, the Pequot of modern-day Connecticut went to war against settlers in New Haven, Rhode Island, Plymouth, and Massachusetts Bay. After crushing the Pequot in a gruesome massacre, colonists sold many of them into slavery. New England war leaders sent captives to the Puritan colony of Providence Island in the western Caribbean, where they in turn exchanged the Indians for Africans slaves. Those Africans, the first explicitly trafficked to New England, arrived in Massachusetts in 1638.
While there were most likely people of African descent in the region before this nefarious swap, the aftermath of the Pequot War created a unique and awful system of exchange of Indian slaves for Africans. Thereafter, in almost every conflict between Europeans and Indians in the region, settlers would capture Indian men, women, and children to trade. The more significant the conflict, the larger the commerce. In the aftermath of the apocalyptically violent King Philip's War (1675–76), colonists sold nearly one thousand Indian captives, some of them Christian converts, into slavery. So numerous and rebellious were these Indians that both Barbados and Jamaica—English West Indian colonies that were among the largest purchasers of Indian slaves—prohibited the further importation of indigenous New Englanders.5 Nevertheless, Indian captives were a lucrative trade commodity that allowed settlers to acquire African slaves. It was such an effective strategy that many leading Puritans such as Downing advocated war to procure prisoners.
Although local Indians made up the majority of the nonwhite bound labor force until around 1700, African slavery had many advantages. Unlike Natives, black slaves were legally strangers in the fullest sense of the word. They had no claim to the land and were not familiar with the region's geography, making it harder for them to run away. It was easier to control and compel black labor lacking knowledge or ownership of the land. Moreover, while Indians were targets of both captivity and conversion, many Puritans were not particularly concerned with their spiritual wellbeing. Most Europeans perceived Africans as irredeemable heathens unfit for Christian civilization and forced through biblical injunctions such as the curse of Ham to serve. Attitudes toward Christianization changed by the early eighteenth century, but colonists still considered people of African descent, even those born in the colonies, to be outsiders. In the words of leading Puritan magistrate Samuel Sewall, slaves remained "in our Body Politick as a kind of extravasat Blood." 6
Whether African or Indian, perceived to be part of the community or not, enslaved men and women were in New England to work. By 1700, slaves could be found working in nearly every sector of the New England economy. They provided labor on farms across the region, helping to clear forests, build fences, and plant crops. In that sense, they were both tools of imperialism and victims of it. Likewise, as the port cities of New England established commercial connections across the Atlantic world, and their economies became ever more complex, bondsmen and -women found themselves at work providing supplemental and skilled labor. As the seventeenth century progressed, any observer would have found increasing numbers of slaves working in the shipyards, brick kilns, and artisanal workshops of places like Boston, Salem, New London, Hartford, Newport, and Providence. Meanwhile, as the region's wealth increased through commerce, many leading families purchased enslaved women to work in their kitchens, provide household labor such as sewing and weaving, and help raise children.
That said, there was some discomfort with the wholesale embrace of slave labor. Evidence of this hesitancy comes from the town records of Boston. In November 1661, the selectmen (town leaders) of Boston forced Thomas Deane, a local cooper, to appear before them. Deane employed an enslaved "Negro," whose name was never given, in the manufacture of barrels. Employing his slave in such a way was "contrary to the orders of the Towne." Town leaders ordered Deane to cease and threatened to fine him twenty shillings a day "for [every] day that the said Negro shall continue in such employment."7 The selectmen's reprimand demonstrates there was at least some hesitancy in employing slave labor, especially in skilled trades. Why such attitudes existed, however, is open to question. Most likely, it concerned protecting skilled labor and not an ideological opposition to slavery as an institution. By the early eighteenth century, such qualms had disappeared altogether.
Much of the conflict regarding the enslaved cooper in Boston probably came from the relatively ambiguous legal status of slavery in New England. To better understand slave law in the region, it is important to look at two early legal documents regarding slavery. The first was part of the 1641 Body of Liberties, the Massachusetts Bay Colony's first legal code. Essentially a list of rights, duties, and laws governing freemen in the colony, article 91 deals with slavery. Included in a section regarding the "Liberties of Foreigners and Strangers," it states, "There shall never be any bond slaverie, villeinage, or Captivitie amongst us unless it be lawfull Captives taken in just warres, and such strangers as willingly selle themselves or are sold to us. And these shall have all the liberties and Christian usages which the law of god established in Israell concerning such persons doeth morally require. This exempts none from servitude who shall be Judged thereto by Authoritie."8
At first glance, this law bans slavery in all but certain situations. Yet, when put in the context of the larger Body of Liberties and the political and economic realities of early New England, this article legalized preexisting practices of slavery. Included in the section on foreign peoples, the law would not have been applied to Puritan settlers. Moreover, the article concerning "just warres" condoned the capture, enslavement, and sale of Indians. Likewise, the reference to "strangers" sold to the colonists was coded language for African slaves. Within a decade after the settlement of New England, then, chattel slavery was not only legal but also racialized, a status reserved solely for Indians and Africans.
That said, beyond legalizing slavery, article 91 offered little guidance on how Massachusetts would govern slavery. The reference to "liberties and Christian usages" and the "law of God established in Israell" suggest that the Bible, especially the books of the Old Testament, provided the necessary precedents for regulating bondage. Many people in New England did use the Bible to interpret slavery. Yet, the last sentence of the law, referencing those "Judged" to serve by "Authoritie," demonstrates that, ultimately, secular local officials would be in charge of determining who was and was not a slave. Those same authorities would be able to govern slavery in any way they saw fit. Either way, while legalizing slavery, the law left the institution of slavery to be governed on an ad-hoc and uneven basis.
The second document that further complicates early New England's relationship with slavery comes from Rhode Island. In 1652, the colonial assembly there passed the first piece of antislavery legislation in the English colonies. The act complained that it was a "common course" for "English men to buy negers" and hold them as "slaves forever." Looking to prevent such activities, the law ordered masters to free their slaves after ten years of service and were then supposed to free them under the same terms as "English servants." Any slaveholder who did not free her or his slaves after a decade or sold them into permanent slavery elsewhere faced a forty-pound fine.9
Rhode Island's history offers some context for understanding why this piece of legislation—openly hostile to slavery in a world where bondage was quickly being normalized—passed. Radical religious dissenters, led by the charismatic Roger Williams, founded the colony in 1636 after fleeing hardline Puritan Massachusetts. In subsequent decades, the colony, built on a foundation of religious toleration and the separation of church and state, became a magnet for dispossessed and marginalized religious groups such as the Baptists and Quakers. The presence of so many persecuted groups, themselves the targets of discrimination, made them understandably apprehensive of slavery. The 1652 law should be understood as an outgrowth of Rhode Island's dissenting tradition.
Ironically, the law also demonstrates the pervasiveness of slavery in New England. Slave owning was common enough in Rhode Island by the early 1650s that an apprehensive legislature felt the need to comment. It is doubtful anyone believed the law was more than a suggestion. For one, when the law passed, representatives from only two of Rhode Island's original four towns were present for the vote. Those towns, Providence and Warwick, were located in the north of the colony, while the two other towns, Portsmouth and Newport, were in the south near the mouth of Narragansett Bay. These latter towns were much more supportive of slavery and, by the late seventeenth century, heavily invested in the transatlantic slave trade. The law may be more reflective of economic competition, ideological differences, and local political squabbles than a principled stand against slavery. In short, as one historian notes, the 1652 law has the "high distinction of being not only the first, but the most widely violated piece of antislavery legislation in America."10 In early New England, even laws antagonistic to slavery demonstrated the importance of the institution.
Given laws that both permitted and prohibited slavery, the exact legal status of slavery in early New England is hard to determine. A good example of this ambiguity is the legal principle known as partus sequitur ventrem. Often referred to as partus, this doctrine held that children followed the status of their mother. It was especially important for upholding slavery as it meant the children of enslaved women would also be enslaved, creating a permanent and inheritable servitude regardless of who the father was. The problem for Englishmen in New England and other colonies, however, was that English common law followed the principle partus sequitur patrem, or, that children followed the status of the father. In order to change from the traditional English understanding of partus to the one most useful to slavery required English colonists to pass legislation changing the law. Colonists in Barbados passed such a statute in 1661 and Virginians followed suit a year later. Unlike these other two English colonies, not one New England colony ever passed a law enforcing partus. Nevertheless, it was widely held that the children of enslaved Africans and Indians followed the status of their mothers. Instead of statutory law, as Lorenzo Johnston Greene, the first modern historian of New England slavery, explains, "custom and tradition achieved the same end." Using tradition instead of statute demonstrates New England colonists accepted slavery as customary, rational, and moral by the middle decades of the seventeenth century.11
Legal uncertainty can be explained by two factors. First, the enslavement of Indians following the vicious wars of displacement forced New England colonists to create slave law on the spot. For this, they drew from the English common law, especially servant law, and the Bible. Such ad-hoc lawmaking created ambiguity, oversights, and loopholes. Second, as is discussed below, New England colonists drew from their broader connections across the Atlantic world, looking for legal precedent as far away as the Caribbean and Latin America.
After examining the origins of slavery, slave labor, and slave law in seventeenth-century New England, it becomes clear that slavery in the region was equivocal, racialized, and legal. It is easy to focus on the region's exceptionality and eccentricities when it came to slavery, especially during this early period. Nevertheless, a broader perspective demonstrates that New England was not that different from other English colonies in North America at the time. The region was home to a few slaves who worked on farms and in workshops providing supplemental labor. Like New England, there were not that many enslaved men and women in the colonies as a whole, comprising only 7.5 percent of the population in 1690. Likewise, other colonies just as haphazardly governed slavery. Virginia promulgated law after law chipping away at the rights of black people, who occupied an unclear status between servant and slave for the better part of a century, until the colony finally passed a comprehensive slave code in 1705. By 1700, then, New England was not that different from other colonies regarding bondage, as each colonial government attempted to navigate and regulate slavery as an institution. To better define slavery, New England, perhaps even more than other colonies, looked to the English Caribbean.
Caribbean Connections
Embedded in Downing's letter to Winthrop was an implicit recognition of New England's most important connection to Atlantic slavery. Downing advocated selling Narragansett captives for African slaves. Where would he sell Indians to obtain Africans? Winthrop would have understood that Downing meant the Caribbean. There, the center of slavery in the Anglophone world, slaves were readily available for purchase and the need for labor made a great market for selling captives. Winthrop knew the importance of this Caribbean connection more than most. As the former governor of New England's most populous colony, Massachusetts Bay, Winthrop had helped to establish trade connections to the West Indies. He found a ready market for the region's timber, fish, and agricultural surplus, and recommended that New England's merchants ship manufactured goods from England to the Caribbean. Winthrop was even personally invested in the success of the Caribbean and had two sons settle there, one of whom became a successful planter and slave owner.
Thus Winthrop and his family are the embodiment of early New England's connection to the epicenter of New World slavery and source of enslaved laborers. Colonists in both regions deliberately cultivated and fostered this relationship for its mutual benefits. To better understand this connection, we need to explore English settlement in the Caribbean, the rise and importance of slavery there, and how New England fit into this development. Through interactions with the West Indies, New England found a ready market for commodities and captives, purchased slaves, and learned how to institutionalize slavery.
Englishmen first arrived in the Caribbean in the middle decades of the 1500s. Most were privateers commissioned to attack and harass Spanish shipping and forcibly trade with Spanish settlements. There was little interest in permanent settlement, although by the end of the century, a number of ship captains had set up encampments in the harbors of the Lesser Antilles to rest, repair, provision and water, and hide from Spanish retaliation. In the meantime, French and Dutch privateers joined in on attacking the Spanish—and each other. By the early seventeenth century, the Caribbean was a chaotic space of clashing factions looking to plunder riches in the case of the English, French, and Dutch; to protect their previous conquests in the case of the Spanish; or to fend off European incursions in the case of the region's indigenous population. As more and more Europeans poured into the region, many recognized the promise of the lush tropical islands for agriculture, especially the cultivation of valuable cash crops such as tobacco and sugar. This discovery, in turn, fueled further conflict, no longer to plunder but to colonize.
Out of the maelstrom came numerous settlements by the early 1620s, around the same time the Puritans arrived in New England. Many of these were spaces of great conflict, such as the island of St. Christopher (modern-day St. Kitts), which the English and French ultimately divided. Yet, one island avoided the violence and chaos that characterized much of the region's early history: Barbados. Far to the east of the other West Indian islands, Barbados's Carib Indian population abandoned the island and few Europeans had ever visited. Although claimed by the Portuguese, they had done little to colonize the island besides releasing a few pigs that, lacking natural predators, quickly grew to number in the tens of thousands. Despite the lack of interest, the island showed promise. Unlike other Caribbean islands, Barbados was relatively flat and did not have any mountains, meaning most of the island could be put under cultivation. Likewise, given the currents and wind patterns of the Caribbean, which makes it hard to sail east, Barbados was relatively isolated from the violence of the rest of the region. Even better, the large number of feral hogs and rich marine life provided ample food until any potential colonists could build farms. For these reasons, the English took great interest in the island, landing and exploring in 1625 and sending the first colonists in 1627.
Almost immediately, Barbados's economy took off. The island, peaceful and removed from conflict, grew food crops to feed the many passing sailors and soldiers sent to fight in other parts of the region. Settlers salted pork from the wild pigs they hunted and grew cassava and other root vegetables that proved readily saleable. Cattle, and the leather and beef they provided, also proved lucrative. Even the low-quality tobacco early Barbadians grew found a ready market in England and the Netherlands for the production of snuff. The wealth generated by this early plantation economy allowed Barbadian planters to purchase more land and experiment with different crops. Such a dynamic economy also attracted the interest of English investors by the 1640s, especially London merchants. Not only did these investors actually purchase land but they also encouraged exploring the production of sugar, the most lucrative tropical crop of the era. After the fortuitous arrival—for the English, at least—of Dutch and Sephardic Jewish colonists possessing the knowledge of sugar production in the late-1640s, sugar became the staple of the Barbadian economy by 1660. Sometimes called the plantation revolution or the sugar revolution, the change to sugar transformed Barbados into an economic powerhouse and the crown jewel of the English empire.
Yet, this economic development had a sinister side. To effectively cultivate first produce and later sugar, Barbados needed an exploitable labor force. Quickly becoming a "laboratory of labor," as one historian describes the island in its earliest years, Barbados relied on bound labor from the moment of settlement in 1627, when the initial colonists brought indentured servants.12 As the island's economy took off, it became a magnet for more indentured servants looking for opportunity. Instead of finding opportunity, however, many found sheer misery as their masters, far removed from the restrictions of England, treated their servants horribly and without regard to the law. Nevertheless, more and more servants poured into the colony, especially political exiles from England, Scotland, and Ireland during the English Civil War and Oliver Cromwell's conquest of Ireland. Indeed, by the 1650s, the term "barbadosed" had entered the English language to explain the process of exiling political prisoners and prisoners of war to the island. Treated even worse than regular indentured servants, some of these people survived their terms and were able to escape to England and appeal to Parliament. Appalled by the treatment of white servants, the English government cracked down on the abuse of servants beginning in the 1650s.
Parliament's action gave Barbadian planters little pause. Servants could never meet all of the island's labor needs, so planters began importing African slaves in the 1630s. Over the next two decades, more and more slaves arrived in Barbados, especially after the adoption of sugar cultivation. Barbadian planters ultimately decided that slavery was better than servitude. Echoing the same justifications in early New England, African slaves, unlike servants, never became free and, as strangers and heathens, could never appeal to king and Parliament for help. They were the perfect workers. As sugar cultivation expanded across the island, so did slavery. By 1660, African slaves constituted the majority of Barbados's population; in 1700, the island was home to fifty thousand slaves. This model of sugar and slaves quickly spread across the rest of the Caribbean, making the region the epicenter of New World slavery by 1700.
New England played an important role in the expansion of this exploitive system of sugar and slavery. The interest in the West Indies, however, actually started with the same religious fervor that drew colonists to New England. Puritans were among the first English settlers in the Caribbean. Most importantly, a group of Puritans closely linked with those in New England settled Providence Island in the western Caribbean off the coast of modern Nicaragua. Although the colony only lasted a decade (1631–41) before being destroyed by the Spanish, it looked more like early Barbados than New England by the time of its destruction. Slaves comprised a sizable percentage of the island's population and focused on growing tobacco and other tropical commodities for export. Early on, Massachusetts and, to a lesser extent, the other New England colonies traded with Providence Island. And it became a place for New Englanders to purchase slaves. Indeed, the first recorded instance of African slaves arriving in the region came from exchanging Indian captives from the Pequot War for Africans living on Providence Island.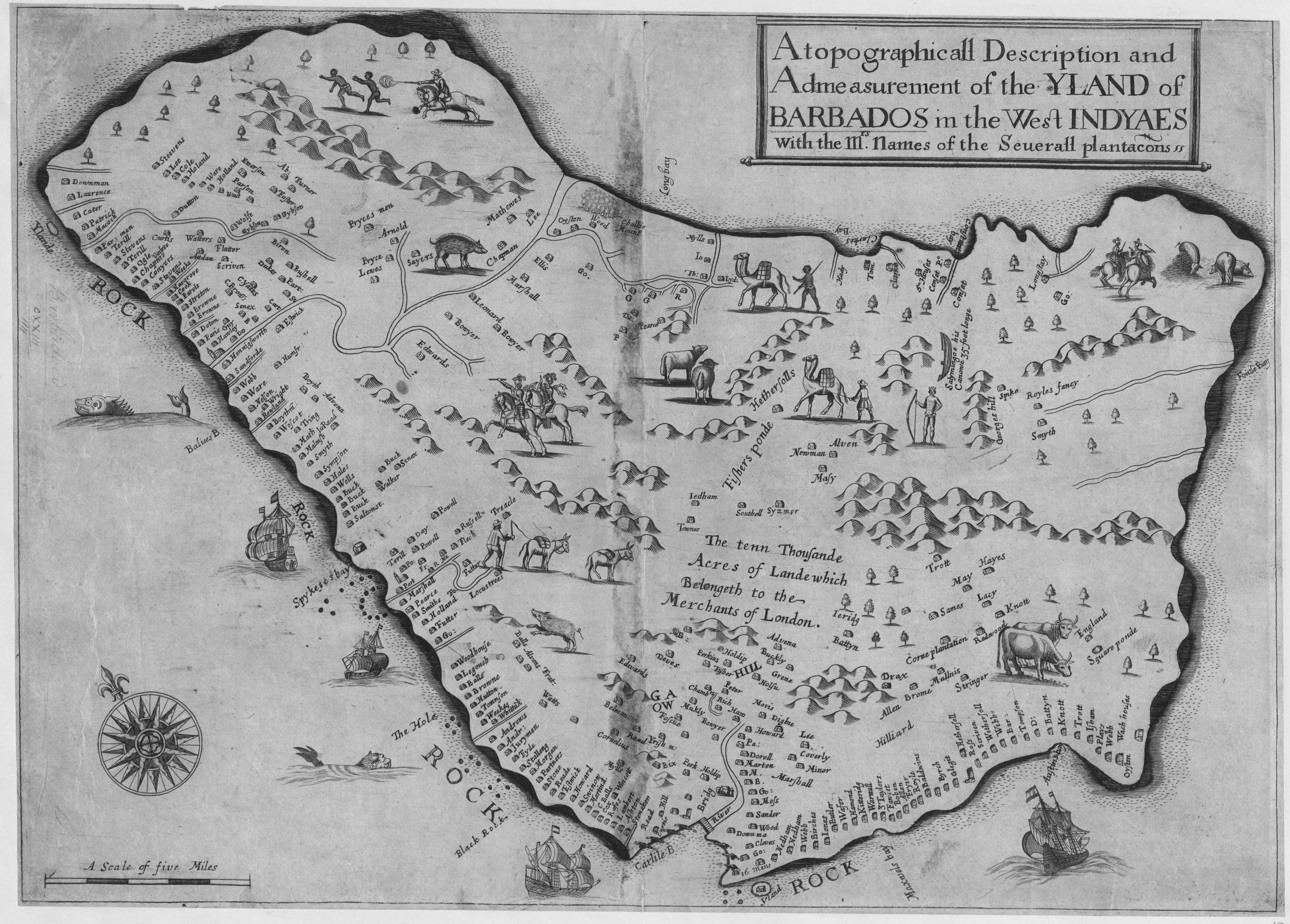 Even before the fall of Providence Island, New England merchants expanded their commerce across the West Indies. Much like early Barbados, New Englanders fed the warring factions in the region and, unlike their Barbadian counterparts, sold manufactured goods to the islands. It was the rise of sugar agriculture, however, that proved most lucrative for New England. The West Indian islands, especially those in the Lesser Antilles, are small, and many of the islands have mountainous regions where sugar cannot be grown. For sugar to be profitable, then, every arable acre had to be planted with cane. By the 1680s, Barbados would have been one great sea of cane fields broken up by the occasional stand of trees, plantation houses, sugar mills, boiling houses, and slave quarters. Such intensive sugarcane production left little space for growing food crops. New England merchants capitalized on this situation. They sold surplus foodstuffs, salted fish, and livestock to feed the burgeoning slave population; provided timber for construction and fuel; and offered Indian captives to labor on the plantations. In exchange, New England merchants purchased sugar, molasses, and African slaves.
Food, timber, and animals from the region became the lifeblood of the English West Indies. It was New England calories that provided enslaved men and women with the little sustenance they received and New England cattle that powered mills. Indeed, one of the earliest writers on Barbados, Richard Ligon, included a "how-to" section for aspiring sugar planters. Central to building a successful and profitable estate was New England. Ligon admonished his readers that they "must be sure to have a Factor [business agent] . . . at New England." This agent would be able to acquire "Beefe, Porke, Fish, of all sorts, dried and pickled" for feeding slaves and servants.13
The economic connections between New England and the Caribbean only grew as the sugar revolution expanded beyond Barbados to the Leeward Islands and Jamaica, captured by the English in 1655. Profiting from the dramatic expansion of sugar agriculture and the immiseration and death of thousands of Africans from overwork, poor living conditions, and disease, New Englanders grew wealthy from Caribbean trade and ever more deeply invested in the use and spread of slavery.
In that context, two important transformations occurred. First, economic relations transformed into social ones. As ties between the two colonial regions grew, many merchants intermarried with their counterparts. Others moved between the regions. Some did both. A good example of these connections is Hugh Hall, a Barbadian merchant and planter. Hall worked closely with New England merchants and had such close relationship that he married Lydia Gibbs, the daughter of prominent Boston merchant Benjamin Gibbs. Hugh and Lydia went on to have a son, also named Hugh, who split his time between Boston and Barbados, attended Harvard University, and became one of the principal slave traders in New England.
The second transformation dealt with slavery in New England proper. Close contact with the West Indies taught the white colonists how to govern and manage slaves. These settlers seemed to take many cues from the Caribbean islands, most likely because they purchased so many of their slaves in the region. To illustrate this trend, let us return to the discussion of partus. As mentioned before, no New England colony passed a law stating that children followed the status of their mother. Instead, colonists treated it as a "custom of the country." Colonists most likely learned that custom from Barbados. That island holds the infamous distinction of passing the first comprehensive slave code in the Anglophone world in 1661. It provided guidelines for governing and regulating slavery, dictating punishments for recalcitrant slaves, and outlining the responsibilities masters had for their bondsmen and -women. In addition, the law dictated children followed the status of their mothers, paving the way for permanent, inheritable slavery. The Barbadian Slave Code of 1661 spread like wildfire across the English Atlantic and provided legal precedent for slavery everywhere, influencing later slave codes in Virginia and South Carolina. Given New England's close relationship with Barbados, it should not come as a surprise that many colonists adapted Barbadian statutes as New England custom.
---
Looking back at the first three decades of settlement in New England, Downing's letter to his brother-in-law John Winthrop seems to be more prophetic than suggestive. By 1700, slavery, which had largely disappeared from England by the early 1500s, was economically, legally, and culturally entrenched. This transformation came about because slavery was both foreign and familiar to the Puritans who settled in the region. While Englishmen and -women would not have had firsthand experience with slavery, they would have understood many other different forms of bound labor, such as servitude, and read accounts of the slave societies of Africa, Asia, and Latin America. Even the Bible condoned slavery. For those reasons, many early New Englanders believed that slavery would be one ingredient for prosperity and success.
Although religion inspired the settlement of New England, colonists believed that to glorify God and do God's errand in the wilderness meant creating economically viable settlements. Prosperity could come through farming, fishing, and trade, yet these enterprises required considerable land and labor. To acquire both, settlers developed an insidious system where they would dispossess local Indians from their land through war and debt, capture them, and then exchange them, usually in the Caribbean, where New Englanders already had deep economic connections, for African slaves. This human trafficking laid the foundation for slavery in New England, but outside of a few statutes legalizing the institution, it was relatively ill-defined, ad-hoc, and ambiguous. Understanding this allows us to better understand the lives of the enslaved men and women who arrived into the region. That is where we turn our attention next.
---